Gelaran pameran komputer terbesar di Asia yaitu COMPUTEX TAIPEI 2016 akan
dilangsungkan dari tanggal 31 Mei sampai 4 Juni. Hari ini, pemenang dari penghargaan COMPUTEX Best Choice akhirnya ditunjukkan. Notebook MSI GS63 STEALTH PRO GAMING dan juga Motherboard MSI Z170A XPOWER GAMING TITANIUM EDITION dengan bangga berhasil menggunguli lebih dari 374 kompetitor dan memenangkan Best Choice Golden Award & Best Choice Award.
MSI GS63 STEALTH PRO GAMING Notebook & Z170A XPOWER GAMING TITANIUM EDITION Motherboard Mendapatkan penghargaan COMPUTEX Best Choice Awards
Hal ini sekali lagi menunjukkan posisi MSI sebagai brand unggul di dunia Gaming dan juga Overclocking. COMPUTEX Best Choice Awards memiliki fokus penilaian pada Functionality, Innovation dan Market Potential. Terkenal karena kreasi dan desain yang mengagumkan dari MSI, MSI GS63 STEALTH PRO GAMING Notebook mendapatkan penghargaan Best Choice Golden Award pada kategori Gaming & Entertainment sedangkan MSI Z170A GAMING TITANIUM EDITION Motherboard mendapatkan penghargaan Best Choice Award pada kategori Computer & System.
"MSI telah mendorong perkembangan teknologi komputer selama bertahun tahun, bersungguh sungguh ingin menghadirkan produk yang memenuhi kebutuhan seluruh gamers di dunia. Sebagai contoh sebut saja Virtual Reality (VR), MSI adalah yang pertama dan satu satunya brand di market yang disertifikasi oleh HTC, Intel dan NVIDIA untuk teknologi VR. Setiap detil produk MSI didesain oleh R&D yang sangat berpengalaman serta di test langsung oleh para profesional gamers. Hari ini, usaha MSI untuk mengembangkan gaming dan overclocking mendapatkan satu buah manis yaitu penghargaan COMPUTEX Best Choice Awards ini. Kedepannya lagi, MSI akan selalu berpegang teguh pada prinsipnya yaitu breakthrough in design dan juga pursuit of excellence untuk bisa selalu menghadirkan produk dan experience terbarik untuk semua gamers." kata Eric Kuo selaku MSI Vice President of Global Sales & Marketing.
MSI GS63 STEALTH PRO GAMING Notebook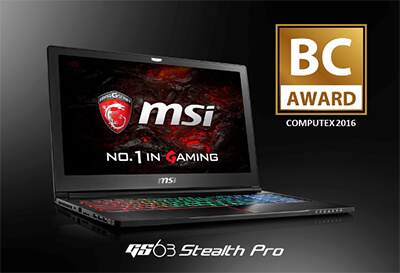 Notebook MSI GS63 STEALTH PRO berhasil membungkus desain yang revolusioner, exclusive gaming features, dan juga performa komputasi yang ekstrim pada chasis yang hanya setebal 17,7mm. Notebook GS63 STEALTH PRO GAMING mengadopsi Mg-Li alloy, material yang sering digunakan di pesawat terbang. Hal ini membuatnya 44% lebih kuat dari notebook lainnya yang hanya menggunakan alumunium, disamping itu GS63 juga adalah notebook gaming paling ringan dengan bobot hanya 1,89 kg.
MSI Z170A XPOWER GAMING TITANIUM EDITION Motherboard
​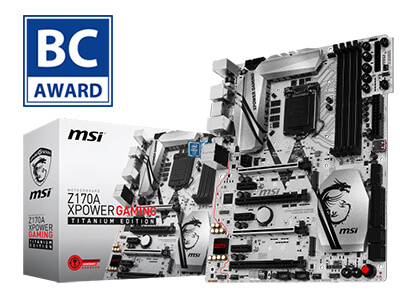 Motherboard Z170A XPOWER GAMING TITANIUM didesain dengan DNA OC & Gaming. Mobo spesial ini memiliki generasi baru OC Dashboard dan juga panel independen untuk para overclocker fine tuning settingan mereka. Dengan fitur eksklusif Game Boost yang bisa mengoverclock cpu dengan mudah, kecepatan 5GHz bukanlah hal yang mustahil. DDR4 Boost juga memastikan bahwa seluruh memory circuit di mobo tidak tergannggu oleh sinyal elektronik lain sehingga menjamin performa yang maksimal dan stabilitas yang terjaga. Slot PCI yang diperkuat dengan Steel Armor didesain untuk menangani kartu grafis yang paling berat sekalipun.